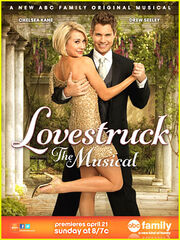 Lovestruck: The Musical is an American romance jukebox musical television film that premiered on April 21, 2013 on ABC Family. The film is directed by Sanaa Hamri  and produced by Gaylyn Fraiche and Salli Newman. It stars Chelsea Kane as young Harper/Debbie Hayworth,Drew Seeley as young Ryan, Sara Paxton  as Mirabella, Alexander Dipersia as Marco, Adrienne Bailon as Noelle, Jane Seymour as Harper, Tom Wopat t as Ryan, and Sarbo Kamoo as Amanda.
Lovestruck: The Musical tells the story of Harper who is one of the best dancers to hit Broadway. But after an injury causes her to leave the spotlight she becomes a choreographer and raises her daughter Mirabella. When Mirabella is suppose to the star of Harper's next big production, she decides to quit the show to get married to a playboy Marco, but Harper isn't thrill about the wedding so she decides to put a stop to it and show Mirabella that she cannot give up her career for love. After the long flight to the Italian wedding site, Harper takes a drink from the strange bottle that is supposed to dull the pain of an old dance injury. Instead, the elixir magically turns Harper 30 years younger. When Harper tries to destroy the wedding she kisses Marco but Mirabella thinks that Noelle is the one who kissed Marco. After Harper runs into Ryan who recognizes her so she turns him 30 years younger. After Ryan experiencing the reverse-aging effects of the elixir, Ryan teams with Harper to reverse the damage she's done to Mirabella and Marco's relationship, hopefully in time to save the wedding
Jane Seymour as Harper
Susan Boyd provides the singing voice of Harper
Chelsea Kane  as Young Harper/Debbie Hayworth
Tom Wopat as Ryan
Drew Seeley  as Young Ryan/Angus
Sara Paxton as Mirabella
Alexander DiPersia as Marco
Jeff Lewis provides the singing voice of Marco
Adrienne Bailon as Noelle
Sarbo Kamoo as Amanda
"Just Dance": Performed by Susan Boyd
"I Wanna Dance with Somebody (Who Loves Me)": Performed by Chelsea Kane
"Me Too (Stripped)": Performed by Sara Paxton and Jeff Lewis
"Like a Virgin"": Performed by Sara Paxton, Adrienne Bailon, Chelsea Kane
"How Can I Remember to Forget?": Performed by Sara Paxton
"DJ Got Us 

Fallin' in Love":

 Performed by Drew Seeley and Chelsea Kane
"Me Too (Main Mix)": Performed by Sara Paxton and Jeff Lewis
"Everlasting Love": Performed by Adrienne Bailon, Susan Boyd, Sara Paxton, Jeff Lewis and Cast
"Here and Now": Performed by Drew Seeley
Ad blocker interference detected!
Wikia is a free-to-use site that makes money from advertising. We have a modified experience for viewers using ad blockers

Wikia is not accessible if you've made further modifications. Remove the custom ad blocker rule(s) and the page will load as expected.